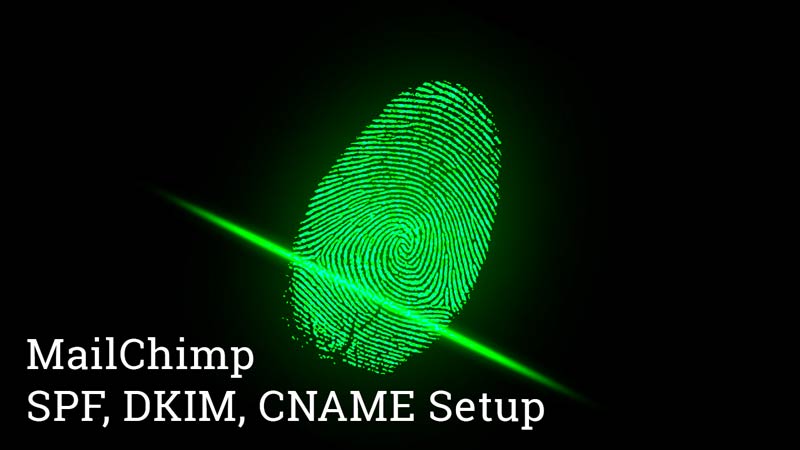 We should authenticate MailChimp account before using it. This tool is very sensitive and they are very restricted about spamming and sending bulk emails using wrong methods.
So you should authenticate your account first. For it, you need to verify your domain and use DKIM and SFP record in your cPanel.
SPF – Sender Policy Framework – Authenticate you are the right person
DKIM – Domain Key Identified Mail – Detects email spoofing
Before it, you need to verify your domain.
Verify Your Domain
(Account > Settings > Verified Domains). You will receive the email by which you will verify your domain.
Include DKIM and CNAME Records
You should have SPF and DKIM records (Login MailChimp > Account > Verified Domains > Authentication (click on View setup instruction) > Copy DKIM and SPF records)
Open cPanel of the Website, by which you would like to send newsletters etc…
Go to "Advanced Zone Editor" under the "Domain" Section
Select Domain
Add a Record (Fill Records in the Form as below)
Type: CNAME, Name: DKIM copied record (in my case "k1._domainkey.spaclub.in"), TTL: copy domain's default TTL (14400), CNAME: (in my case "dkim.mcsv.net")
Include SPF Record
Open cPanel
Go to "Authentication" under the "Email" Section
The status should be "Enable" under DKIM and SPF heading
Copy SPF record from MailChimp(which is written after "include:" and before "?all"), In my case it is "servers.mcsv.net"
Open Authentication and Search "Include List (INCLUDE)" > Press Add > Update
Now you can use your MailChimp account properly.
Note: You can verify and authenticate more than one website in single MailChimp account.
The Video Reference is as below: