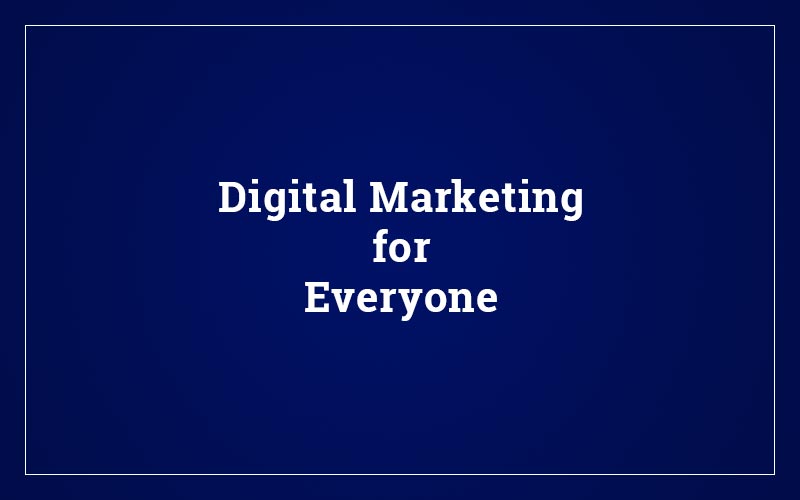 During my career and giving consultancy to more than 40 clients, I realized the digital marketing, not for the specific group but it is actually for everyone who is studying, who has started the career, who is working in top notch companies also who have business even micro, small, medium or big. Digital Marketing is useful for everyone! Why? Let's understand.
I will explain one by one, how digital marketing works for you?
Digital Marketing for Students
If you are the student and you are doing bachelors or masters in any subject. Who has suggested you that you should do it? You!
I don't think so. Either you influenced from someone or you have taken the decision because of your friend, family or relatives told that you should do it. Possibly you are studying because it is your interest it may be chance or you are so lucky!
But, I will ask, how you decide that you will only study this subject and when? Answer yourself! Because the end of the thinking, you will find that you influenced from someone. So yes this works like this. Here, what advertises the skill, the royalty, the success of a candidate by whom you influenced.
Initially, you have seen the person, who is successful in his/her life and you thought you will study and hard work to become like him/her and earn a lot of money.
Ultimately the point is things came in front of you because the thing advertised.
So now It's time to market yourself! How?
Which product most required in the market? Just think about this question!
The product sells because of their attribute, sometimes price matters, availability and demand obviously. here you are a product, you need to be a good in the desired segment.
Here are some tips for a good product as a fresher.
Confident, you can only when you will be honest.
Create your good resume
Learn advanced things related to the desired job.
Well-dress-up for the interview, because first look always attracts.
Explore more and more information related to your career
Create your network where you can sell your skills
Don't copy! Sell your identity only.
Learn from seniors and from where you can
So don't wait and try to implement these things, I can say surely, you will get success.
How digital marketing helps for professionals?
Professionals, who are working somewhere or works for own. Professionals can be an employee who is working in a company and selling his/her skill to them. Photographer, Singer, Painter DJ, Radio Jockey may also be a professional category.
I respect them because they are good in their field and entertain to others.
Now let's talk about the professionals, how digital marketing useful for them?
I will discuss here bit specific. In Indian scenario, the education segment should be updated because as per industry the course curriculum is not best suited.
Mostly institutes/university are not providing digital marketing course, except like Manipal University and IIM.
After BBA, MBA some students are not comfortable with Sales even though they chose Sales and Marketing specialization as same BCA, MCA and B.Tech (CS) candidates sometimes are not writing codes so they are not good to become as Software Engineer, Web Developer, Network Engineer even Functional Tester but they have analytical skills so yes! they can be a Good Digital Marketer. If you are in the same scenario and thinking you may be, don't wait and choose this area.
Take some important steps to make the career in digital marketing:
Learn about SEO (Search Engine Optimization), Understand how Search Engines works?
Social Media Marketing Tricks
Start learning organic marketing first and then learn paid marketing (PPC)
Understand consumer behavior for Website
Find out the need of customer from Internet/Online stuff.
Study a lot of case studies and understand the solution of Case.
Would be great if you can start a blog/website on a specific topic like on Travel, Food, Learning Material or whatever your interest. It will give you practical knowledge and you will start thinking as an owner.
And the last but not least Study, Study, and Study
Digital Marketing for Business Owners
No doubt, more than 85% IT companies using digital marketing. While other business segments also using digital marketing.
Are you using digital marketing for your business? What! How can you use?
No worry! I can help you. Just write an email and share your basic details, I can tell you how your business can make better ROI also how the digital marketing will use for your business.
Write an email to "digitalbalendu@gmail.com" or call me on +91 9549024024 or Visit About Me Page
By the way, in brief, I would like to share some points. It will surely work for you.
If your business B2C (Business to Customer), Use famous social media tool(s) like the Facebook. and B2B (Business to Business) then use LinkedIn.
Are you running your business online? You need to optimize the website for Search Engines, promote on Social Media, reach your product via Emails, Generate leads via landing pages, give some offer and promote it on social media again. Track traffic and promote where you are getting the audience and earn more.
Share knowledge about the product via Blog. you will get blasting traffic. I am sure.
You will realize the positive changes in the business.
So hope you will understand, the digital marketing is for everyone.
Keep reading and stay tune with my blog